Hello,
I've read in a post that we should make unnecessary pixels as transparent, so does it reduce image size and improves battery life?
I'm trying to make a watchface where background color is primarily black as most of the faces in here.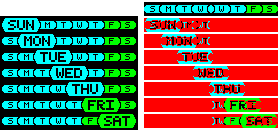 Here, the left image is showing how the week days will be shown. It's quite long, but for the design, it seems necessary.
Now to reduce color pixels of the 7 images, instead of cutting that in 7 pieces and show them as it is, what I've done is make a common "template" for the days (top right), which will be on the default background image.
Then the 7 images of the week now have the only colors needed to "change" the template to show the correct one.
The right portion is showing the 7 images where the red color area will be transparent.
Now was it helpful to reduce bin size and improve battery life etc.? I'm not sure if the files size are making much difference here or not. Or did I just made a mess trying to over engineer the things?
Thanks in advance!
NB: In our country, Fri and Sat are considered as weekend, so here in my example week starts from Sun instead of Mon. That is not a mistake, I've made it that way.